NEC Completes Patara-2 Submarine Cable System in Indonesia

TOKYO, Oct 2, 2023 – (JCN Newswire via SeaPRwire.com) –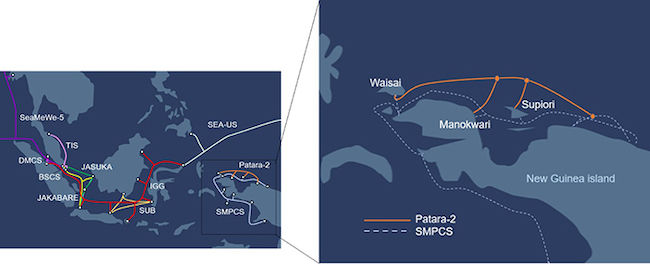 NEC's major supply record in Indonesia and the Patara-2 cable system
https://www.nec.com/">NEC Corporation (TSE: 6701) announced today that the Patara-2 submarine cable system connecting multiple islands across Indonesia is complete and operational. This cable is owned by Telkom Indonesia, the biggest digital telco company in Indonesia, which is strongly committed to accelerating the country's digitalization.
The Patara-2 is a 100 Gigabit per second (Gbps) x 80 wavelengths (wl) x 2 fiber pairs (fp) optical fiber submarine cable system measuring approximately 1,200 kilometers. In addition to the existing Sulawesi Maluku Papua Cable System (SMPCS) and others in Indonesia provided by NEC, this new cable system enhances connectivity among the cities of Waisai, Manokwari, and Supiori."Both the Patara-2 and SMPCS cable systems enable the network in the north of Papua to have a redundant configuration, providing highly reliable communications in Papua," said Herlan Wijanarko, Director of Network & IT Solutions, Telkom."NEC, in cooperation with NEC Indonesia, is honored to provide advanced connectivity among Indonesian cities, and has been involved in a variety of submarine cable projects for Telkom since 1991, including IGG and SMPCS," said Atsushi Kuwahara, Managing Director, Submarine Network Division, NEC Corporation. "We have laid more than 10 submarine cable systems in the region and are proud to continue contributing to the expansion of Indonesia's connectivity."NEC has been a leading supplier of submarine cable systems for more than 50 years, and has built more than 400,000 km of cable, spanning the earth nearly 10 times. NEC is well-established as a reliable partner in the submarine cable field as a system integrator that provides all aspects of submarine cable operations, including the manufacture and installation of optical submarine cables and repeaters, provision of ocean surveys and route designs, delivery, training and testing. NEC subsidiary OCC Corporation manufactures optical submarine cables capable of withstanding water pressures at ocean depths beyond 8,000 meters.
About NEC Corporation
NEC Corporation has established itself as a leader in the integration of IT and network technologies while promoting the brand statement of "Orchestrating a brighter world." NEC enables businesses and communities to adapt to rapid changes taking place in both society and the market as it provides for the social values of safety, security, fairness and efficiency to promote a more sustainable world where everyone has the chance to reach their full potential. For more information, visit NEC at https://www.nec.com/">https://www.nec.com.
Copyright 2023 JCN Newswire via SeaPRwire.com.