NEC awarded the Telecom Infra Project's "Silver Badge" for its disaggregated 400G transponder solution

TOKYO, Oct 12, 2023 – (JCN Newswire via SeaPRwire.com) – NEC Corporation (NEC; TSE: 6701) has been awarded a Requirements Compliant Silver Badge for a 400G transponder solution in support of the Telecom Infra Project's (TIP) Phoenix initiative for developing a transponder architecture that will promote the use of disaggregated, open hardware and software.
TIP is a global community of companies and organizations that work together to develop, test and deploy open, disaggregated and standards-based solutions.
The Phoenix solution was defined by TIP's Open Optical and Packet Transport (OOPT) project group, which is an operator-driven initiative for the development of open technologies, architectures and interfaces in the Optical and IP networking domain. Phoenix is the result of operators NTT, Telia, Telefonica, Vodafone, Deutsche Telekom and MTN collaborating closely throughout development of the solution, from specifying the technical requirements to evaluating solution compliance through TIP's testing and validation process.
Phoenix is a white box L0/L1 transponder that operators can deploy on their existing optical line systems to increase network capacity. It is based on disaggregated hardware and software components and is capable of line interface speeds of 400G. NEC's solution consists of the NEC Network Operating System (NOS), based on Goldstone open-source software, running on Wistron's Galileo Flex-T hardware, and interoperable with various transceivers that are compliant with OpenROADM and OIF specifications.


NEC's disaggregated 400G transponder solution
In order to be awarded a TIP Requirements Compliant Silver Badge, products must be tested by network operators. MTN, one of the largest mobile network operators in Africa, and NTT Communications Corporation (NTT Com), one of the largest telecom companies in the world, contributed to test execution and report submission.
Demonstrating its commitment to innovation, MTN embraced this state-of-the-art technology, integrating it into its production network, specifically, across its optical network between Johannesburg and Centurion in South Africa, further demonstrating the technology's interoperability and backwards compatibility. Field equipment installation and system integration were performed by NEC XON, which is a leading pan-African ICT-systems integrator.
NTT Com built a long-distance fiber transmission system in a lab environment and tested the reachability of various transmission rates. In order to test and confirm the reachability of various transmission rates, NTT Com constructed 13 spans of 80km transmission lines with Single Mode Fiber using NEC's DW7000 ROADM system, and connected Phoenix transponders to both ends, resulting in transmission across 560km at 400G and 1,040km at 200G.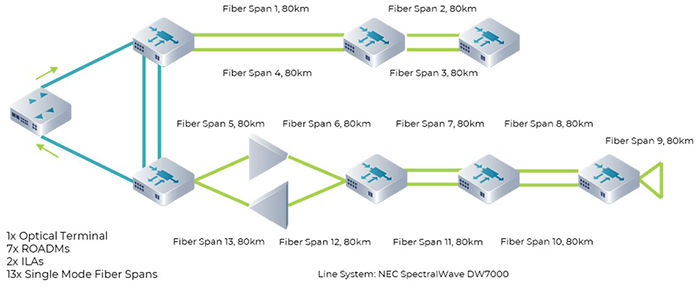 "The Telecom Infra Project Open Optical & Packet Transport community is delighted to announce the awarding of the first-ever Silver Badge to NEC NOS in recognition of its high compliance to TIP requirements over Wistron Galileo FlexT white box hardware. The Phoenix solution exemplifies the power of our open community, demonstrating how it empowers the ecosystem to drive commercial open and disaggregated solutions, shaped by the needs of operators and the collaborative efforts of vendors," said Arturo Mayoral López de Lerma, Technical Program Manager at Telecom Infra Project.
"The deployment of Phoenix with NEC technologies is a significant step toward fulfilling a crucial promise to our customers, to deliver accessible, reliable and fast internet," said Amith Maharaj, Executive for Network Design & Planning at MTN Group. "This initiative is part of our ongoing efforts to embrace the latest technologies available that ultimately empower communities across Africa."
"As an operator member of the Phoenix project, we are very pleased to have contributed to the testing and validation process for the first Phoenix Silver Badge solution. We look forward to working with NEC, other vendors and operators to leverage even more open solutions. We would like to make this possible and will continue to contribute to TIP activities," said Yuichiro Wada, Director, Innovation Center, NTT Communications Corporation.
"NEC's Phoenix solution represents a significant leap forward in the telecom industry," said Anthony Laing, General Manager of Networking at NEC XON. "Disaggregation is the future of networking, and we are proud to be at the forefront of this evolution. Through our partnership with MTN, we've proven that NEC XON is a trusted and field-ready leader in this space."
"NEC has further bolstered its commitment to the development of an open and disaggregated ecosystem with its contributions to the Phoenix optical transponder, including the application of our "SpectralWave WX Series," which is part of our All Optical Network portfolio," said So Sato, Senior Director, Network Solutions Business Division, NEC Corporation. "Our continued activities within TIP remain a priority for us, and this badge award will greatly support deployment of our open products to the optical transport market."
About NEC Corporation
NEC Corporation has established itself as a leader in the integration of IT and network technologies while promoting the brand statement of "Orchestrating a brighter world." NEC enables businesses and communities to adapt to rapid changes taking place in both society and the market as it provides for the social values of safety, security, fairness and efficiency to promote a more sustainable world where everyone has the chance to reach their full potential. For more information, visit NEC at https://www.nec.com.
Copyright 2023 JCN Newswire via SeaPRwire.com.