Gate Web3 Startup Announces MIGU MEELIER Airdrop

MAJURO, Marshall Islands, Oct 9, 2023 – (ACN Newswire via SeaPRwire.com) – Gate Web3 Startup, the web3 project launchpad created by Gate.io, a leading cryptocurrency exchange, is thrilled to announce the launch of the MIGU MEELIER Airdrop, available now until October 11, 06:00 (UTC).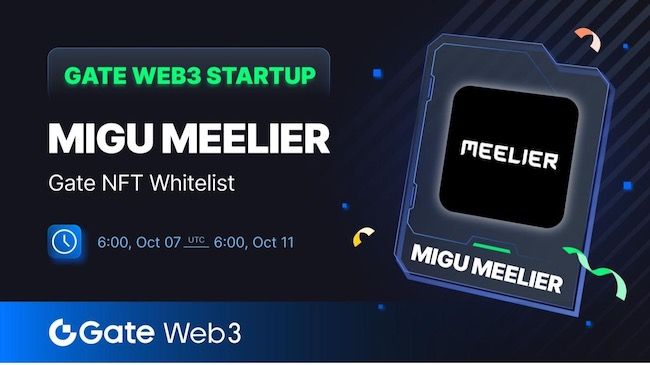 The Meelier Collection represents the inaugural NFT collection from Migu, a subsidiary of China Mobile. Through the seamless integration of blockchain technology and innovative content, we aim to completely revolutionize traditional digital entertainment, ushering in a new era of digital experiences and channels for value exchange.
China Mobile's commitment lies in the creation of an immersive and trend-setting digital cultural ecosystem, coupled with the pioneering of innovative applications for digital assets. As the first NFT series within China Mobile's Migu metaverse ecosystem, this collection signifies our dedication to exploring uncharted territories within the digital space and delivering unparalleled value to our users.
Participation in the MIGU MEELIER Airdrop is open to all Gate Web3 Wallet users with more than $1 worth of assets on the EVM chain in their accounts. This opportunity is a testament to Gate Web3 Startup's commitment to democratizing access to tokens and NFTs for its users.
Gate Web3 Startup unlocks free initial and non-initial airdrops from cutting-edge Web3 projects, easily accessible through self-custody wallets in the Web3 section of Gate.io. Beyond the Startup platform, Gate Web3 offers comprehensive tools for decentralized Internet engagement, including the Gate Web3 Wallet, single/cross-chain swaps, perpetual futures, NFT marketplace, staking, DApps, and airdrop aggregators.
For more information about the MIGU MEELIER Airdrop and Gate Web3 Startup, please visit https://www.gate.io/web3/startup/902.
About Gate.io
Established in 2013, Gate.io is one of the world's earliest cryptocurrency exchanges and a leader among compliant and secure digital asset platforms, offering diverse trading services with 100% user-verifiable Proof of Reserves. Further, the platform has consistently ranked as one of the top 10 cryptocurrency exchanges based on liquidity and trading volume on CoinGecko. Besides its primary exchange services, Gate.io has diversified its ecosystem to offer decentralized finance, research and analytics, venture capital investing, wallet services, startup incubation, and more. The platform currently serves more than 13 million active users worldwide.
Media Contact:
Elaine Wang
Global Media Manager
elainewang0910@gmail.com 
Copyright 2023 ACN Newswire via SeaPRwire.com.