MHI Introduces New Container-Type Data Center with Immersion/Air-Cooled Hybrid Cooling System

TOKYO, Oct 4, 2023 – (JCN Newswire via SeaPRwire.com) – Mitsubishi Heavy Industries, Ltd. (MHI) has developed a new 40kVA-class 12ft container-type data center with an immersion/air-cooled hybrid cooling system capable of simultaneously housing servers utilizing three types of cooling methods: immersion cooling (25kVA), air cooling (8kVA), and water cooling (8kVA). MHI will provide the product to customers for trial operation for a fixed period from October, and begin demonstration testing to support commercialization at the Yokohama Hardtech Hub (YHH), a manufacturing co-creation space on the grounds of MHI's Yokohama Dockyard & Machinery Works Honmoku Plant in Naka-ku, Yokohama. MHI plans to commercialize this solution by the end of fiscal 2023.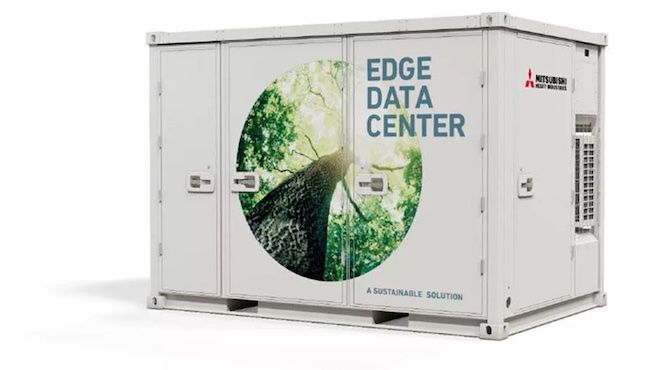 The newly developed data center is the successor to the container-type immersion cooling data center(1) that has been under development since 2021. Servers with different cooling methods for different applications (by power density) can be mounted in the unit simultaneously, accommodating a diverse range servers and other devices for edge computing to process data at the periphery ("edge") of computer networks.
In addition, a space of 1.4m x 1.3m has been secured inside the container, dramatically improving workability when installing or removing servers. Further, because of the integration and optimization of different cooling methods as a whole system, and installation at high density in a 12ft container, system performance in a 40°C environment is expected to achieve PUE(2) of 1.05 for immersion cooling alone (1.14 when immersion cooling and air cooling are used in combination).
For the demonstration testing of the data center, Dell Technologies Japan Inc. provided a server for verification, and NEC Networks & System Integration Corporation will verify the IT equipment installation and server maintenance procedures.
Data centers are a part of the critical social infrastructure supporting modern life and culture. In recent years, the demand for greater server capacity and more advanced data centers has increased. As companies shift data and processes to the cloud, and advance in generative AI drive its widespread adoption, reducing the amount of power consumed to remove the heat generated by servers, and minimizing the impact on the environment have become important issues. Strong growth in data center infrastructure is expected in the future at an accelerating pace.
Going forward, MHI Group will apply various cooling technologies and zero emission power products at data centers that utilize high-performance servers. The expanded portfolio positions MHI Group to provide a one-stop solution for highly reliable and efficient power supply, cooling, and monitoring systems, as well as integrated control, in order to contribute to the realization of a carbon-neutral society and the conservation of the global environment.
(1) Since 2021, MHI, KDDI Corporation, and NEC Networks & System Integration Corporation, as part of an effort to reduce power consumption and support decarbonization for global environmental conservation, have been conducting demonstration experiments aimed at realizing a small data center that utilizes an immersion cooling system with liquid to cool servers, and that can be housed in a container, with the aim of establishing practical applications for this technology in Japan.
(2) PUE (Power Usage Effectiveness) is a general measure of the energy efficiency of a data center, with lower PUE values indicating greater energy efficiency. PUE is calculated as: total energy consumed by data center (kWh) ÷ energy consumption of IT components (kWh).
Past Initiatives for Demonstration Experiments Aimed at the Realization of Small Data Centers
"MHI Successfully Reduces Power Consumption by 43% with Container-Type Data Center Using Liquid-Cooled Servers"– Contributing to decarbonization, trial operation at KDDI Oyama Technical Center aiming for commercial availability in FY2024 —https://www.mhi.com/jp/news/22032902.html (March 29, 2022) (Japanese)
"KDDI, MHI, and NESIC Begin Demonstration Experiment for Utilization of Immersion Cooling System and Realization of Small Data Centers"– Reducing power consumption for cooling servers, contributing to decarbonization —https://www.mhi.com/jp/news/21062101.html (June 21, 2021) (Japanese)
About MHI Group
Mitsubishi Heavy Industries (MHI) Group is one of the world's leading industrial groups, spanning energy, smart infrastructure, industrial machinery, aerospace and defense. MHI Group combines cutting-edge technology with deep experience to deliver innovative, integrated solutions that help to realize a carbon neutral world, improve the quality of life and ensure a safer world. For more information, please visit www.mhi.com or follow our insights and stories on spectra.mhi.com.
Copyright 2023 JCN Newswire via SeaPRwire.com.